12-12-2000
LISA ST. AUBIN DE TERÁN
(1953 - )
Travelling is like flirting with life. It's like saying, "I would stay and love you, but I have to go; this is my station."

Lisa St. Aubin de Terán Off the Rails, ch. 2 (1989).
Lisa St Aubin de Terán is one of the writers that impressed me more in the last three years. The Hacienda is a vivid and readable book, that I recommend to everybody. Then I read with great pleasure A Valley in Italy, a magnificent book. Later I read also Southpaw.
The Hacienda - My Venezuelan Years (memoir) - 1997
Lisa St. Aubin de Terán was a romantic seventeen-year-old when she married Don Jaime, a South American aristocrat twenty years her senior. Quickly seduced by tales of his ancestral home, she left England for his family's vast sugarcane and avocado plantation, deep in the Venezuelan Andes. There the fantasy life she had imagined met with an almost unbelievable reality—the plantation was in shambles, and her dashing husband turned out to be an international fugitive, suffering from hereditary madness.
In her first days on The Hacienda, Lisa found herself virtually abandoned in the wilderness, with only a pet vulture, two pedigreed beagles, and la gente—the estate's illiterate, feudal people—for company. But during the tumultuous years that followed, Lisa evolved from bewildered child bride to powerful matriarch. The Hacienda tells the sometimes hilarious, sometimes harrowing story of how Lisa courageously restored the plantation, miraculously gave birth to her first child, and, perhaps hardest of all, won the respect of la gente. She discovered an untapped reservoir of personal strength and, in the end, was forced to use it to save her own life.
The Hacienda describes an adventure so eccentric it often assumes the dreamlike quality of magical realism. But this is a deftly handled true story--of a woman learning to adapt and thrive, and of a writer finding her imaginative roots. Tremendously atmospheric, Lisa St. Aubin de Terán's memoir brilliantly evokes the unique confluence of time, place, and people that shaped this powerful writer.
Reviews of "The Hacienda" in the N Y Times:
2005, January - Published OTTO, 528 pp., Virago Press, ISBN 1860497578, see the reviews here
Venice: The Four Seasons

Many travelers to Venice entertain fantasies of living there someday. A few--mostly students and rich Italians--actually manage to fulfill those dreams, if only for a semester or on long weekends away from Milan or Rome.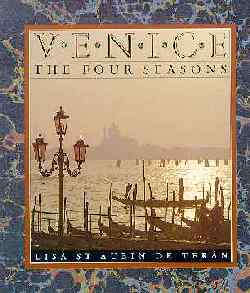 In 1988, British novelist Lisa St. Aubin de Terán settled in Venice with her Scottish painter husband, Robbie Duff-Scott, her fourteen-year-old daughter, and her five-year-old son. The family bought an apartment on the Rio della Guerra, between Santa Maria Formosa and San Marco, and leapt into "the bizarre bureaucratic hurdle race that buying property in Venice entails." Venice: The Four Seasons gives snippets of the author's life over the next several years while weaving in commentary on Venetian history, culture, geography, and daily events.
The book is divided into four main sections: "Spring Carnevale," "Summer Invaded," "The Autumn Mists," and "Winter Haunts." Each section is illustrated by dozens of superb photographs by Mick Lindberg, which range from intimate views of the author's flat to colorful examples of Venice street life.
The text is highly readable (if a bit gushy at times), as this excerpt shows:
It must be terrible to be short in Venice, or to be a child, sometimes smothering and drowning under a sea of thighs and baggage. It must be hard to be old and unable to hurry as the crowd jostles itself down alley ways, shoving people against the bricks and doorways and into stalls. It must be hard to be frail, vulnerable to the knocks and bumps continually sustained. In summer it often looks as if the gates of the Arsenale have opened and released 16,000 people from a shift. At first I found my nerves jangled by the sheer numbers and the claustrophobic nearness of so many people. Their excitement clashed with the natural drowsy feeling of the city squeezed by heat. I noticed that my daughter was less bothered by the crowds than I, and I asked her how she managed to survive. 'I just ignore them,' she said.
Then I asked her what her Venetian friends made of such multitudes and how they coped. She shrugged and said, 'They just ignore them too.' I can see that as a long-term solution this attitude is hopeless, but as a way to enjoying what, but for the intrusion of the eager and the inane, is a lovely dawdling couple of months, it is a start. So sometimes I willed myself to be invisible, and sometimes I willed the crowd to be so on my way to the Lido and the islands. Modern Venetians are wonderful fantasists, and they are forced to fantasize from early on; living as we do in an age of television, the screen and life as it must be lived in Venice do not square.
SUMMARY:
A beautifully written and illustrated book that gives a uniquely personal view of modern life in a thousand-year-old city.
A Valley in Italy: The Many Seasons of a Villa in Umbria

For those who wish to know what happened after Lisa St. Aubin de Teran fled with her daughter from the surrealistic hacienda and sadistic husband that she wrote about in her compelling 1998 memoir, The Hacienda, pick up her earlier book A Valley in Italy. St. Aubin de Teran begins her Italian book about ten years, one new husband and a son later when the family including the "child Iseult" are leaving Venice for a ruin in Umbria. All the usual plumbing, dust, stucco, mortar, and workman problems are summoned up. The former mistress of the Venezuelan hacienda keeps her good humor throughout the restoration of the Villa Orsola. She seems to accomplish this without funds or fuss but with lots of goodwill from her Italian neighbors. If The Hacienda, a New York Times Notable Book for 1998, was at time harrowing and haunting, then this is memoir lite.
Elements of Italy - to be published in 2001

Lisa St Aubin conveys the essence of what Italy is by dividing it into the four classical elements of earth, fire, air and water - what it looks, smells, sounds and tastes like. The turnstile into Italy has clicked continually for centuries - Lord Byron loved here and continues to draw romantics in his wake; Stendhal concluded, "The charm of Italy is akin to that of being in love"; Vita Sackville-West grew drunk on her rapture for the country; and Heinrich Heine noted "simply letting yourself live is beautiful in Italy". And yet Italians love their country more than any foreigner ever can. Italians love of art, architecture and life itself is what drew Lisa St Aubin to the country. She explores the work of Italians Dante, Leonardo da Vinci, Goethe, Primo Levi and non-Italians Turner, Shelley, Truman Capote, Cecil Beaton and Keats - who went to Rome to die by the Spanish Steps. She also explores the constitutional impact of the 28 governments since 1945 and the historical implications.
BIBLIOGRAPHY:
Keepers of the House - Novel - 1982
The Slow Train to Milan-1983
The Tiger - 1984
The Bay of Silence - 1986
Black Idol - 1987
Nocturne - 1992
Joanna - 1990
The Palace - 1998
Indiscreet Journeys; Stories of Women on the Road
Southpaw - short stories - 1999
Virago Book of Wanderlust & Dreams - Anthology
The Marble Mountain and other stories (short stories)
The High Place (poetry)
Off the Rails (memoir)
Back to England from Venezuela, Lisa St Aubin de Terán married the poet George MacBeth (1932-1992) and together they had her second child, Alexander Morton George MacBeth.

In 1982, Lisa St Aubin de Terán met the man that would be her third husband, the painter, Robbie Duff Scott (born 1959). Their relationship brought with it the two step children, the elder of whom, Iseult, has been modelling for Duff Scott since she was twelve years old: both model and Duff Scott's painting have grown up together.

Duff Scott has found his muse in the Venezuelan Iseult, whose fragile sensuality lies at the heart of his figure painting. Startling in their realism, poetic in their allusiveness, these works are executed with a skill and panache that have provoked comparison among Italian critics with the bravura of the young Caravaggio, not surprisingly one of Duff Scott's own favourite exponents of the medium.

She now (2005) lives in Amsterdam with her present husband (she divorced from Robbie Duff Scott).
In 1999, Iseult Terán (b. 1973) published two books:

My Life as an Astronaut (memoir)


Dolce Vita (novel)


The Hacienda
My Venezuelan Years
by Lisa St. Aubin de Teran
Virago Press, London, 342 pages, $34.95
reviewed by Bill Davies
In 1978, at twenty-five, Lisa St. Aubin de Teran sprang fully armed onto the international literary stage with her first novel, Keepers of the House, the story of an adolescent English girl who marries a Venezuelan aristo and takes on the management of his sprawling sugar plantation in the Andes.

And now, with The Hacienda: My Venezuelan Years, LSAdT proves that truth is still stranger than fiction. With painful candour, she describes the reality of her extraordinary seven years in the Andes as she tackles the feudal economics of running the hacienda, winning over the suspicious and impoverished peons who live and work there, having a baby, and dealing with her husband's growing schizophrenia.

The story begins in south London in 1969, with Lisa, sixteen, preparing for her Cambridge University entrance exam. She's followed to and from school by Don Jaime Teran, an aristocratic Venezuelan exile. He tells her he will die if she doesn't marry him. It is, he says, her destiny to do so. He is twice her age, she too innocent to recognize the macho cliche. Eight months after meeting, Lisa and Don Jaime marry at the Lambeth Registry Office. The honeymoon is spent at the cinema, watching Zabriskie Point. Later that night he tells her that he's not only an exiled aristo but also a bank robber.

We never find out which bank he robbed, or which losing side of what particular Venezuelan coup d'etat Don Jaime was on. But in 1972 comes good news: he is pardoned and can return to Venezuela. A cousin in the secret police sends word that this is not a trick to get Jaime before a firing squad.

The happy couple, longing to see the fabulous hacienda that Lisa had heard so much about, return first class on a Spanish ship. Lisa is by now quite fluent in Spanish, though unaware of the distinction between the way men and women speak Spanish. This leads to some social gaffes, so she decides to remain silent. She runs the gauntlet of Jaime's female relations in Caracas, who, assuming Lisa doesn't understand Spanish, prattle on about her appearance, her clothes, her hair, and her immense height. Why had Don Jaime married this strange foreign child? What would people say? -- in Spanish, que diran?, a phrase used as much by the upper classes as by la gente, the illiterate feudal people living on the hacienda.

The Terans came over on Columbus's second voyage and had intermarried for 400 years. They are proud -- and mad. Lisa delights in listing some of the loonies: "One lived in total darkness; another lived on his balcony; another was enamoured of a dog called Jacqueline; another drove her car in reverse until the engine burnt out, then bought another and did it again; one was a miser, another a sadist; one was a tramp, one was a catatonic; there was a nymphomaniac, an alchemist, and one who had been building an aeroplane in his backyard for 20 years out of powdered milk tins."

The hacienda, when they finally get there, is not quite what Lisa had been expecting. The Casa Grande, where Don Jaime and his Dona were to have taken up residence, is rented to Los Pollos de Eladio, a fried chicken enterprise. The Terans have to make do in a cottage near the plantation's sugar factory. It has a dirt floor, a tin roof, a windowless kitchen, and no bathroom. The estate foreman, Antonio Moreno, comes to greet them. He's seventy-eight and has worked on the hacienda since he was seven years old. He embraces Don Jaime passionately. Then, trunks unloaded, Antonio disappears, and so does Don Jaime, to drive his cousin home. "Ya vengo," he says -- "back soon", meaning anything from an hour to a month.

Don Jaime's absences become more frequent. Lisa finds herself alone most of the time, her only company Ross and Megan, the two ill-trained beagle hounds she's brought from England. She also shares the house with various rats, bats, mice, cockroaches, poisonous toads, and other livestock. This menage is later joined by Napoleon, Lisa's pet vulture, a fearsome creature with a sharp intelligence and quite humanly jealous. Readers of Keepers of the House will be glad to renew acquaintance with Napoleon as well as many other local characters.

Lisa realizes that if she's to make anything of her Andean dream, her marriage, and her life, she's going to have to do it herself. She approaches the families living in the surrounding plantation, who are dirt poor, illiterate, suspicious, undernourished, proud, and embarrassed that the strange, foreign Dona should want to talk to them. She hires Coromoto, a knowing eight-year-old, as kitchen help (eight is the age little girls expect to start work). Coromoto listens delightedly to Lisa's stories of the outside world. She doesn't believe them, but Lisa's reputation among la gente is enhanced because she is a good storyteller.

The children suffer from hideous illnesses. Everyone seems to live with intestinal worms. Infections travel faster than gossip in the plantation. Soon after Lisa succeeds in curing some of the children, she is running a primitive clinic in her house. The locals prefer it to the Guillotine (their name for the local hospital).
Lisa's mother sends medicines from England, and Lisa keeps her mother up to date on life with Jaime, suppressing the grimmer bits about his increasingly strange behaviour. On his return to the hacienda after two weeks or so in town, he wonders who Lisa is and what she's doing there. At other times he's violent, especially to the animals, whom he normally dotes on.

Another thing that's been bothering everyone is why Lisa hasn't become pregnant like any other young bride. Is she sterile? Que diran, etc. One day Lisa, convinced she's got a heavy dose of worms, goes to see a doctor in town, London-trained, much respected, and "almost a Teran". He tells her she's four and a half months pregnant. Lisa feels "infinitely grateful to the child inside me".

By this time she is not completely alone or friendless on the hacienda. Her competence in running the sugar factory profitably earns her the respect of la gente as well as the saner members of the Teran clan. Dreadful things still happen, but LSAdT maintains a strong thread of ironic humour throughout the book.

After seven years Lisa and Don Jaime are sleeping in separate rooms. Lisa retires at seven each night with her daughter, Iseult, locking her door. She has listened too often to Don Jaime's suicidal fantasies (it would be a pact between them, he says, the last of the Terans), and she keeps a loaded Smith & Wesson by her side.

Her own serious illness provides Lisa with the excuse she needs to leave Venezuela with Iseult, for treatment in London. She's been given two months by Don Jaime; after that, he has promised, he will come looking for her.
Lisa St. Aubin de Teran spends her last days on the hacienda saying goodbye to la gente, the people she says "have been the greatest influence on my life and work".
Bill Davies is a Vancouver writer.

March 31, 1998
Books of the Times
'The Hacienda': Adrift in a Harsh and Exotic World
By MICHIKO KAKUTANI
Lisa St. Aubin de Terán's haunting (and often harrowing) memoir about the seven years she spent on a sugar plantation deep in the Venezuelan Andes reminds us just why magical realism took root and flourished in parts of Latin America.
The natural world alone presents a fantastical aspect: plagues of flies and ants, blinding sunlight and interminable rains, and fecund vegetation that can virtually transform gardens into jungles overnight. Add to that unstable politics, a feudal social structure, and, in the case of Ms. St. Aubin de Terán, a mad husband and suspicious in-laws, and you have a recipe for surreal drama.
Indeed the story Ms. St. Aubin de Terán, a British novelist and poet, tells in "The Hacienda" reads like a combination of Gabriel García Marquéz and Daphne du Maurier, with some Brontëesque atmosphere thrown in for good measure. Perhaps the most startling thing about "The Hacienda" is that it is not a novel, but the story of the author's own youthful marriage to a mysterious Venezuelan aristocrat and her life on his family plantation, high in the Andes.
How Ms. St. Aubin de Terán met and married Don Jaime Terán is itself a bizarre tale: As she tells it, she was a 16-year-old schoolgirl, preparing for her Cambridge University entrance exams, when she met this older man on "an insalubrious street in south London." Jaime started following her to school and back. He proposed marriage to her at bus stops and in supermarket lines, and after eight months she relented, more out of passivity and "public-spirited" good will, she says, than genuine affection.
In fact, she barely knew him. Besides the language barrier, there was something secretive, almost sinister about Jaime: he spoke very little about himself, and when he did it was only about his family's glorious past. On their wedding day, Jaime told her that he "was a bank robber and a wanted man."
Jaime, Ms. St. Aubin de Terán learned, was "the last of a dynasty of Teráns whose lands dated back to the Capita Pobladores: the first settlers from Spain who arrived in Venezuela via Santo Domingo on the second voyage of Christopher Columbus." Jaime's grandfather, Don Rodolfo, one of the few survivors of a family massacre carried out by his wife's brothers, had had the lower part of his face shot away and replaced by a platinum jaw. Another relative, Gen. Mario Terán, contracted leprosy and spent the better part of his life hiding his face from the world, running his estate, issuing orders and making oracular pronouncements from behind a screen.
The plantation, "the hacienda," was also cloaked in myth. Ms. St. Aubin de Terán initially imagined a kind of garden of Eden, a paradisal place of preternatural beauty and grace. The reality was disappointing: The main house had been leased to a chicken restaurant, and the newlyweds were obliged to live in a nearby cottage, a primitive abode with a cement floor, a leaky tin roof and a single light bulb. Worse, the author was soon abandoned by her husband, who would leave for days, even weeks to hang out with his cousins and friends.
There was little solace to be had from neighbors. Jaime's relatives and their wealthy friends looked down on Ms. St. Aubin de Terán as an ignorant outsider who wore the wrong clothes, spoke in the wrong vernacular and embodied the wrong values. The plantation workers, the "gente," kept their distance too. To them, Ms. St. Aubin de Terán was "la doña," the mistress of the manor, someone to be greeted with only the most formal and guarded of words. For months, the author's only friends were the 8-year-old daughter of the hacienda's foreman and a pet vulture, who followed her around like a dog.
The hacienda, we're told, is a shockingly hermetic place, where many people spend their entire lives within walking distance of their families' cabins. The men drink hard, cheat on their wives and make a point of never losing face. Women are treated like chattel: they are trained "from infancy to give precedence to the boys, to wait on them, to serve and please them."
The gente, Ms. St. Aubin de Terán reports, live in ungenteel poverty, families of 10 to 20 subsisting on the equivalent of a few dollars a week. Their frequent illnesses -- worms, amoeba infections and a general sickness known as La Mayera -- usually go untreated, and pregnant women are often left by doctors in the hospital to give birth unattended. When the foreman's son dies from accidental poisoning exacerbated by medical neglect, Ms. St. Aubin de Terán determines to open a clinic for the local children and start ministering to their needs.
Her metamorphosis from frightened schoolgirl to la doña bountiful is an act of will and courage -- and denial. It is a way for her to block out the growing madness of her husband and his abusive rages. Part of her is desperate to leave the Andes and return to her mother in England. Part of her loves the hacienda and the gente, and wants her daughter to grow up there.
Ms. St. Aubin de Terán worries that if she leaves, Jaime will take out his anger on the gente, and she worries that he will somehow prevent her from taking their daughter with her. She begins sleeping with a gun under her pillow.
Such melodramatic events are chronicled in precise, elegant prose that throws them into stark relief. Although Ms. St. Aubin de Terán gives us little insight into her background and the curiously acquiescent nature that led her marry Jaime in the first place, she has done a fluent job in these pages of conjuring up the strange new world she discovered in the Andes, both its danger and its beauty, its perils and its allure.
The Robber's Bride
A new memoir by Lisa St. Aubin de Terán tells how a young person can get in a terrible jam.
By MICHAEL UPCHURCH
Say the words ''British writer'' in conjunction with ''autobiographical fiction'' and images of sprawling sugar-cane plantations and García Márquez-flavored extravagances of behavior don't immediately come to mind. But in the case of Lisa St. Aubin de Terán -- born in London in 1953, married at 17 to a Venezuelan aristocrat of dubious sanity and whisked off to his Andean estate two years later -- they're the only images that will do.
Her first novel, ''Keepers of the House,'' published in 1982, drew on these experiences to reveal a writer of considerable promise. In Britain, the book won the Somerset Maugham Award and established St. Aubin de Terán's reputation. But a fresh look, all these years later, proves disappointing: the young St. Aubin de Terán's obvious gift for language isn't matched by an obvious gift for narrative. There is little humor in ''Keepers of the House,'' and its absence sometimes leaves the author straining for effect when a lighter, subtler touch would have worked much better.
This makes ''The Hacienda'' -- her new memoir, covering the same period in her life -- doubly welcome, for it retells many of the novel's episodes in a voice that has come into its own. A wryly absurdist nonchalance now colors St. Aubin de Terán's prose, along with a more buoyant lyrical flair. In ''The Hacienda,'' both are on seductive display.
This gratifying literary ease doesn't stop the book from taking a sobering turn. It is, after all, the story of a nightmare marriage, as well as a regretful evocation of a beloved lost world. Indeed, the affection St. Aubin de Terán feels for that world and its people -- who she says have been ''the greatest influence on my life and work'' -- is palpable. The lingering memories of that affection offer reason enough for revisiting the past.
The author was a mere 16 years old when she met a Venezuelan leftist exile named Jaime Terán on ''an insalubrious street in south London.'' (St. Aubin de Terán sometimes likes to tantalize readers by refusing to provide further details.) For the next eight months, he asked her ''repeatedly and loudly'' to marry him. This she eventually did ''in a public-spirited way: it seemed to mean a lot to him and it didn't mean much to me.''
St. Aubin de Terán's mother, Joanna, four times divorced, advised against it. Her father, some type of roaming diplomat, wasn't on hand to offer an opinion. Teen-age stubbornness prevailed. Even when Terán told his bride on their wedding day that he was wanted for bank robbery back home, she wasn't deterred: ''At last we had something in common: he was a fantasist and so was I.'' A few years later, when the Hacienda Santa Rita was in need of a cash infusion, she would realize how wrong she was. It turned out there was scarcely a local bank that he hadn't been accused of robbing -- ''which wasn't,'' she acknowledges, ''the best credential for taking out a loan.''
The marriage was a disaster from the start, with Terán leaving her stranded at the remote hacienda without food, money or means of transportation for days at a time. Her in-laws were no help. Most of them simply turned up their noses at her: ''They said they didn't know how I had attracted the notice of Jaime, they had racked their brains to discover it.''
Fortunately, after demonstrating some initial suspicion, la gente, the local people who worked on the estate, genuinely embraced her -- and helped her get something to eat. They needed St. Aubin de Terán, it appears, as much as she needed them. Her husband's return from exile meant that his consent was required in order to carry out even the most routine tasks, but Terán was rarely on hand to give it. His young wife's attempts to fill his shoes were tentative at first. (''You don't know how to shout, you don't know how to talk, you don't know how to do anything,'' the foreman's 8-year-old daughter chided her.) But when lack of firm action resulted in a child's death, St. Aubin de Terán felt she had to take a stand: ''From that day I made myself responsible for the welfare of la gente.''
As the Doña in a social system ''so tight it was like a garrote,'' she was both more powerful and more circumscribed in her movements than felt comfortable. She was also forced, as she puts it, ''to distinguish better the line that divides kindness from weakness,'' since there were some who wanted to take advantage of her inexperience. Still, she had her allies, and something more: a writer's curiosity about the people around her, which helped ease the way into her new home.
That curiosity also helps fill ''The Hacienda'' with deft portraits of people, places and animals. (Household pets included, at various times, a vulture, a monkey, two eagles, the occasional lamb and numerous dogs.) St. Aubin de Terán strikes just the right note, whether she's describing a young mother ''locked in a shroud of shock'' as she grieves for her dead child, or passing along that feisty 8-year-old's explanation of how she and her friends in-stinctively knew to wake up early and go investigate the corpse of a drifter who died overnight at the entrance of the hacienda: ''It's just a feeling, a fizzy feeling like Paysi-Cola in the back of my neck, inside, and then you feel itchy, you know, like lice crawling over you and you just head to wherever it is.''
Luminous landscapes, drastic weather, grueling diseases, wildly fluctuating sugar prices and a timeless sense of cultural isolation all contribute to the author's mood, which is sometimes confident, sometimes despairing yet always sympathetic to those ''helpless in ways beyond my own helplessness.'' The book, unsurprisingly, takes some scathing potshots at the oil-rich, semifeudal police state that was Venezuela in the early 1970's. It also serves up plenty of Terán family history, much of it familiar from ''Keepers of the House,'' but rendered less fussily and more eloquently here.
The marital drama, however, is what gives the book its shape. Jaime Terán may be absent through most of the narrative, but when he turns up -- ordering the roof torn off the house or suggesting a suicide pact -- his presence is chilling. The author's letters home to her mother, with their ''lies of omission,'' skirted this human time bomb. Even to herself, St. Aubin de Terán tried to play down her husband's worsening mental condition, his increasingly dangerous instability.
''As it grew more extreme,'' she writes, ''it seemed best to keep it secret. Madness, like chronic illness, palls on bystanders after a while. There is a complex psychological process involved in the partly self-dug trap of domestic violence.'' She doesn't dwell on this, but it's clear that she took some serious blows before escaping, for good, with her young daughter to England in 1979.
Like Doris Lessing's recent volumes of autobiography, St. Aubin de Terán's account of her younger self produces some puzzled headshaking in the older and wiser writer. To explain why she held out so long in Venezuela, she tells us simply that ''I am, by nature, an optimist; some people say mindlessly so.'' She also describes the formidable official obstacles to her escape: her daughter was a Venezuelan citizen and couldn't leave the country without Jaime Terán's permission. Besides, how would St. Aubin de Terán make a living on her own in London? She had no money and no degrees of any kind, and her tropical agricultural experience wasn't exactly suited to England's green and pleasant land. Beyond that, the late 1970's had brought disastrous drought to Venezuela, and she hated to abandon her employees, many of them elderly. (They have all since left Santa Rita or died.)
St. Aubin de Terán makes no mention of what has happened to her former husband -- an oversight, surely. Another quibble: she's a little too eager to include, as evidence of her confused state of mind, the not-so-hot poems she wrote at the time. (They're easy enough to skip.)
Otherwise, ''The Hacienda'' is a transfixing performance, succeeding as both an act of personal catharsis and a level-headed analysis of how one can get oneself into such a terrible jam at such an early age. Although St. Aubin de Terán's marriage is the framing device, her book's deeper essence is found in the brilliant panorama of its chosen time and place. Keenly observed and devoid of self-pity (instead, self-deprecation and bravado are kept in ticklish balance), this fine memoir is, more than anything else, a fond and generous tribute to la gente of the Hacienda Santa Rita.
Michael Upchurch's novels include ''Passive Intruder'' and ''The Flame Forest.''

Living the harsh myth of La Dolce Vita

Sunday October 10th 1999
Cassandra Jardine on how author Iseult Teran has struggled to build stability from uneasy privilege
IF the government wanted a spokeswoman to warn teenagers against becoming mothers, they could not find a more glamorous, or impassioned, candidate than Iseult Teran.
Poised, multilingual, extrovert, and used to the ways of the world after a childhood spent in perpetual flight with her eccentric mother if any girl could have handled the responsibility so young, it should have been Iseult.
Yet this was very far from being the case.
``I had the privilege of money,'' she says, shaking her tangled mane of tortoiseshell-coloured hair and gesticulating emphatically with her improbably long fingers. ``I could pay for my son and go to fantastic places. I had a beautiful home in Italy and my family's support. But I was not ready for it.
``Having a baby when you are still a child yourself doesn't make you mature, it makes you a teenage mother. I believe it is absolutely wrong. If an older man wanted to marry my 16-year-old daughter, I would deal with him the Venezuelan way I'd take him for a long walk in the desert and he would never be seen again.''
Her diatribe comes as a surprise, because teenage marriage and motherhood are a tradition in her family.
Iseult's grandmother married the first of her four husbands at a very young age, and her mother, novelist Lisa St Aubin de Teran, ran off with an exiled Venezuelan bank robber and landowner when she was 16.
``She wanted adventure,'' says Iseult, who was born when her mother was 19. ``I didn't.''
But, despite her protestations today, when Iseult became engaged at 16, she appeared to glory in being so desirable that she was snapped up as soon as she became marriageable.
At the time, she was ``quite certain'' that she had found the person she wanted to be with for ever in Michael Radford, the 40-year-old director of White Mischief and Il Postino. International names flew in from all over the world for the wedding in 1989, and the celebrations at her mother's palazzo in central Italy lasted for three days.
``It would have been nice to know some of the faces at my wedding,'' says Iseult now, pulling a face as she remembers the biggest mistake of her life. ``My mother was absolutely against it, having made the same mistake herself. She gave a huge party only so as not to show a bruta figura to the Italian neighbours.''
Radford had come into Iseult's life when she was 14; he was trying to make a film of one of her mother's novels. For two years, they were just friends; then he decided he couldn't live without this girl so many years his junior.
Iseult succumbed, she says, because she was still reeling from a vicious sexual assault carried out by two policemen during a visit to Brazil. Not officially allowed to drive, the attack happened when she went out alone; the pair left her for dead in a ditch.
At home in Italy, she lay in a darkened room and, unable to eat, began her physical and psychological recovery.
``I wish he had just left me alone to get over it. I was doing so well. But I was terribly vulnerable and I couldn't bear his unhappiness when he said he couldn't live without me.
``I didn't have a clue what I was letting myself in for,'' she says. ``My head was so far up in the clouds that when a friend of the family started to get too close to me, I wasn't strong enough to deal with it. I ended up in a situation I shouldn't have got into. We were both to blame. I was too young, and he was old enough to know better.''
She blushed when they went to restaurants and he was complimented on his daughter. She says now that she never loved Radford and that she knew she had to get out as soon as she was married. Nevertheless, a year later, she gave birth to a son, Felix.
``I got pregnant while I was still a child,'' she says. ``It was absolutely wrong; if a man loves you enough, he'll wait for you to have a child when you've finished growing.''
Felix was only a few months old when Michael went off travelling for his work and Iseult found herself living alone in Rome.
``I was very frightened and very confused. I didn't know what I had got myself into at all. I was still as immature as I was when I got pregnant.''
We get a glimpse of this naivety in her first novel, Dolce Vita. Based on the diaries she wrote as a teenager, the narrative is dotted with fantasies about her perfect man her ideal is someone with a ``twinkle'' and several of the lists that the real Iseult still has a compulsion to draw up.
Although Dolce Vita is fiction, it is clearly autobiographical. Iseult hasn't altered the essential facts of her life, only fiddled around with the details.
She kills her father off, gives her mother brain damage ``she's such a strong person, I couldn't begin to write about her'' and has her heroine, Una, pull out just before her marriage to a much older man. She captures perfectly the egocentricity and silliness of a young girl and, at times, shows glimpses of her mother's mastery of story-telling.
``I would be very honoured to be compared to my mother, but I won't be crushed if I'm not,'' says Iseult, who seems very much in awe of her parent, despite their closeness in age and the years they spent almost exclusively in each other's company.
``We are absolutely not like sisters. She was always very strict about bedtimes, bath-times, when I had to come home. I liked that because it gave me boundaries.
``She's very shy and a true academic, but she has been a marvellous mother. I never felt afraid when I was living in Venezuela with my violent father, nor worried about money when we were on the run, because she protected me from everything. I loved travelling around Europe. `Which hotel shall we go to today, darling?' she would ask.
`Of course, I was terribly embarrassed by all the train journeys, when she would travel in Victorian dresses, with dozens of trunks. `Why can't she keep those clothes for parties?' I used to think. But I also understand why she dresses as she does.
``She had an amazing talent that was pushed down, so her fantasies became reality and she began to dress like the heroines in the novels she read. I am very proud of her.''
With just two words South America Jaime Teran swept Lisa St Aubin away from her home in Clapham, in south London.
After spending time on the run in Europe, he then took her to the remote sugar estate that had been in his family since the time of the conquistadors. There, he ignored her, but for the occasional violent outburst; he was later diagnosed as schizophrenic.
With Jaime talking of a suicide pact, Lisa finally escaped to England with Iseult, who was then only five.
For two years, Jaime had his estranged wife and daughter chased around Europe until Iseult became a ward of court. She has not seen her father for 21 years, but they are, she says, on good terms.
``I often speak to him on the telephone. I admire him. I now see that his violence came from being tortured in prison for his political beliefs.''
After two years on the run, Lisa settled in Norfolk, where Iseult learnt English and became very close to her grandmother.
Norfolk also brought a new stepfather, the poet George MacBeth, to whom Iseult was vile: ``When he called, I would lie, saying my mother had said she couldn't meet him.''
But this marriage also failed, and again Lisa fled. Finally, after another two years' wandering, she settled in Italy with her third husband, the painter Robbie Scott-Duff; Iseult treats him like a big brother.
After boarding school in England and two years in Italy, Iseult went to Paris, where she did a little modelling and not nearly enough studying. Dolce Vita covers this period; marriage and motherhood don't feature.
``When I was living in Paris, I never imagined that the following year I would be dealing with nappies,'' she says. Although her fury with Radford is undimmed, the bad days have faded into the distance. She says the marriage was over long before she left Italy with two-year-old Felix in 1993 even though her estranged husband was still calling their romance ``a real love story'' as recently as 1996.
Radford said there had been problems because Iseult was ``too young to deal with the fact that I was unhappy with my work''. He spoke of their separations as ways of testing each other, concluding that ``in the end, we couldn't let go''.
But Iseult calls this ``wishful thinking'', and says she left Italy so she could make their separation formal.
She chose to settle in London because her mother's sisters ``lassoed her in'', making sure she coped while she brought up Felix on her own in a flat in Notting Hill. ``I put the rest of my life on hold for my son. It would have been ridiculous to have a nanny because I needed one to look after me.''
Iseult admits that the sexual assault made her an anxious mother. ``I wanted to protect Felix, yet I felt I was too young to look after myself. I ended up spending every minute with him. I was like the mother in Terms Of Endearment I would shake him awake just to see if he was all right. `It's OK mama,' he would say, but I would be so worried.
``My friends were at university while I was missing out on my education. For six-and-a-half years, I was suffering from undiagnosed tuberculosis, which I had contracted in Rome. I would be pouring with sweat as I took Felix to school. I was terribly tired and never went out in the evening. I liked people to come to visit us because, if Felix wasn't there, I felt I had no role.''
But the routine of the school run and the memory of her beloved grandmother pulled her through. ``She had been abused by her own mother as a child and, later, was left by four men because she was so overwhelming,'' Iseult says.
``She suffered much more than I did and just got on with it, giving love to other people. I felt I must do so, too. If I couldn't be happy that I had survived the attack, I didn't know what anyone could be happy about. And I knew I could be a good mother to Felix.''
Her son's teachers have tended to treat Iseult as the au pair or his older sister, but she is very much a controlling mother, with firm rules. One of them is never to be embarrassing.
``If I am picking Felix up from school and I'm oddly dressed, I call to him from the taxi or car,'' she says.
Another is never to say anything bad to him about his father, even though she freely admits that, ``I don't see him, I don't speak to him and I wouldn't even recognise him if I met him in the street.'' Gradually, she is learning to let go of Felix, who is now eight. Her own life has, she feels, turned a corner.
Now 26, the book and a rush of ``true energy'' since the tuberculosis has been dealt with, have perked her up.
Best of all, she has found ``everything I was waiting for'' in the form of photographer Nick Ysenburg, whom she married in January. Together, they are travelling the world, doing up a flat and planning many more children. Iseult wants to make documentaries and do a history degree.
She still has wish lists stuck up all over her flat some of them running to several pages. The future is clearly full of hope.
* Dolce Vita by Iseult Teran is published by Flamingo on October 18.